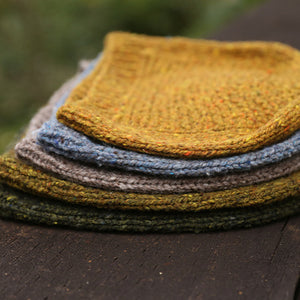 My First Hat: The Barley Hat - In Store Workshop - December 4th and 11th
Regular price
$68.00
$68.00
Unit price
per
A 2-part Project Based Workshop
Mondays, December 4th and 11th from 1:00pm to 2:30pm

If you are a beginning knitter and want to add new skills to your knitting toolbox, the Barley Hat project-based class is for you. Barley, by Tin Can Knits, is a versatile hat that can be knit for all ages and be customized to fit like a beanie or a slouchy cap. In part one, we will cast on to circular needles, join to knit in the round, and talk about how to read a knitting pattern and what to look for in the perfect hat. Between the sessions, you will knit to the crown of the hat. The next week, class will begin with some time for questions before we move our knitting onto double-pointed needles. Then, we will make the decreases for the crown and finish off the hat. Lastly, we will talk about the different ways to block your new hat. 

Skills taught in this class:
• Joining in the round without twisting the stitches
• Knitting in the round (useful for knitting, socks, sleeve, cowls, and sweaters)
• Reading a simple knitting pattern
• Decreasing stitches 
• Weaving in ends
• How to block a hat

Skills: You must have taken our beginning knitting class or be familiar with casting on, knitting, and purling.

Supplies:
Pre-work: Please buy the yarn and needles ahead of class time.
Please come to class on time with the listed supplies and, if required, completed homework.
Full payment is needed to reserve your space. For a refund on the class, cancellations must be made 5 days prior to the class. All refunds are given as store credit only. If we cancel the class for any reason, you will receive a full refund. Please note any supplies or homework are listed under the class description. No Monarch Rewards Points can be used towards the payment of a class.