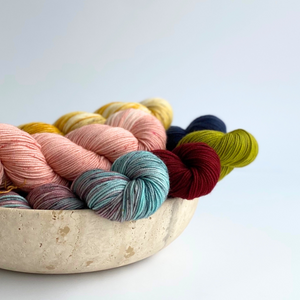 Are you still traveling over the summer season? Quick knits and single skein projects make for a great companion!  We've rounded up some of our favorite single skein patterns so you can pack light...More room for LYS souvenirs!    Summer holiday off the coast in Italy? We've already booked the next flight, and we're taking this fun little shawlette, An Italian Summer Scarf, with us. An easy garter and eyelet pattern makes for a relaxing knit. Calling for a worsted-weight, we think this cute accessory will be divine in one skein of mYak Baby Yak Medium.  If you love self-striping or gradient yarns, Zuzu's Petals by Carina...
---
I had planned on writing a blog post this week that would be the first in a series that would take you through knitting a sweater step by step. I had the post generally sketched out, except for one thing, the sweater.  I cannot decide!  Instead of leaving this space blank for the week, here are the sweaters I am deciding between.  I plan to knit all of these in the next few months, but perhaps writing about them will help me put them in order...or provide you with some inspiration for your next knit. 1. Field Sweater by Camilla Vad...
---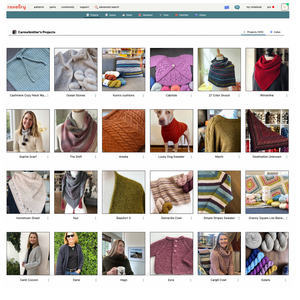 I have long neglected to update my Ravelry project page. It is a nice way to give a bit back to the knitting community at large.  I know when I am looking to knit a project, I look at photos, suggestions, and notes from other Ravelers. I have picked up many helpful tips from the experience of others. Selfishly, it is so satisfying to see a list of all your projects in one place.   When I sat down to add a few more projects, I realized that I needed to add a lot more than "just a few." So,...
---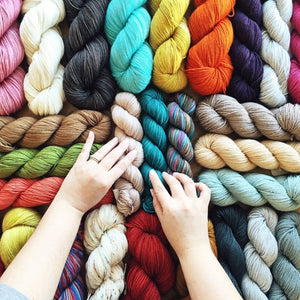 Do you find yourself looking through the sale section of our website, hoping to find a deal, but you need to figure out what to make with the yarn that has caught your eye?  We have done the work for you! Take a peek at the pattern suggestions we paired with our sale yarn! Grab a deal and knit a gift for someone special or yourself! Spincycle Trine - Trine is an absolute wooly dream!  It's a worsted weight, 3-ply marl arriving in a variety of fun colors, from subtle color-wheel adjacent trios to high contrast wild color combos. Roku -...
---
Last week Sarah from Sea Change Fibers delivered a new base to the shop, Swale Sport, a beautiful combination of American Merino/Rambouillet and cashmere. It is so soft and bouncy. I searched through Ravelry for the perfect pattern. On Saturday, I found it, Koryn selected the colors, I photographed the options, Jenn wrote a description, and we had it all set up to appear in the newsletter. I was thrilled! On Tuesday, I took the yarn and pattern home with me and cast it on. I knit the first section, and it was okay; I knit the second section, and,...